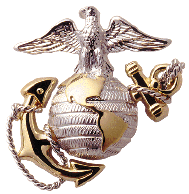 Hello one person that actually signs on and reads my blog. You are in for a special treat.
On Monday my Marine Corps recruiter asked me if I would be willing to ship to bootcamp early, actually, by earlier they meant the next day, Tuesday. That came as a total shock to me, I managed to get out of shipping tomorrow, but I am currently on standby, awaiting orders to ship to San Diego any day from now until my original ship date, 5 December 2005.
Its weird. I've been training and waiting for this for almost a year now. Physically, I'm ready to go. I'm in the best shape of my life. Right now, I would score a high first class on the physical fitness test. Mentally, I know I can handle it. Coach Hueber put the fear of God in me like no man can, and I know I'm mature enough to handle the stress.
But, for some reason, I need the extra couple of weeks until December. I had a lot of plans with family and friends in the month of November, and I'm not too excited about losing that time with them. After I leave for the Marines, time becomes hard to come by and I'm worried that there are going to be a lot of people that I will unfortunately lose contact with. I hope you aren't one of them single person that reads my blog.
I don't have a choice in the matter. The eastern half of the US fell majorily short of their shipping quotas and the western half has to pick up the slack. So, if Uncle Sam needs me to hop on a plane and ship a month and a half early, I have no say. It really actually doesn't bother me that much, if I'll fight for my country I can ship out a little early too I guess.
I'm still coming up to Madison this weekend, because the earliest they would make me ship is next Monday. I'm not calling and telling anyone this, its up to you to read my damn blog, also, its still just up in the air. However, if you do read this, make sure you get a hold of me this weekend, it could be the last hoorah.